EYE DONT TALK TOO MUCH ABOUT MY FATHERS SIDE BECAUSE EYE BELONG TO MY MOTHERS CLAN. MY FATHERS SIDE IS ANOTHER INTERESTING MIX. MY FATHERS MOTHER HAS SHOWN ME PICTURES OF HER GRANDMOTHER AND IT WAS THE TYPICAL PICTURE OF A NATIVE WOMAN WITH HAIR TO HER KNEES. MORE IS KNOWN OF MY FATHERS FATHER WHO WAS LABELED A CREOLE OR MULATO AS MY FATHER WAS. IN FACT MY FATHER TOLD ME HE DID NOT REALIZE HE WAS A NEGRO UNTIL HE MOVED TO PHILADELPHIA. EYE HAVE SEEN PICTURES OF MY GRANDFATHER AND HE COULD HAVE EASILY FIT THE DESCRIPTION OF A MONACAN INDIAN. AND THE EVIDENCE OF THAT CONNECTION IS SIMPLE AND OBVIOUS. MY FAMILY NAME OF BRANHAN IS ON THE ORIGINAL MONACAN FAMILY SIR NAME LIST OF NATIVES WHO WERE TARGETED BY NONE OTHER THAN WALTER PLECKER HIMSELF. NOT ONLY IS MY LAST NAME A MONACAN SUR NAME, BUT UPON FURTHER RESEARCH EYE LEARNED THAT MY 1ST NAME (NORRIS) WAS A MONACAN FAMILY SURNAME. EYE HAVE SEEN BOTH NAMES ON MONACAN FAMILY TOMBSTONES. 
EYE HAVE EVEN MADE CONTACT WITH A KNOWN DESCENDENT OF THE MONACANS Jovie Blue WHO VERIFIED MY CLAIMS VIA THEIR OWN FAMILY HISTORICAL RECORDS. YOU CAN LOOK AT THIS LETTER FOR YOURSELF AND SEE IF ANY OF YOUR FAMILY NAMES APPEAR ON THE LIST.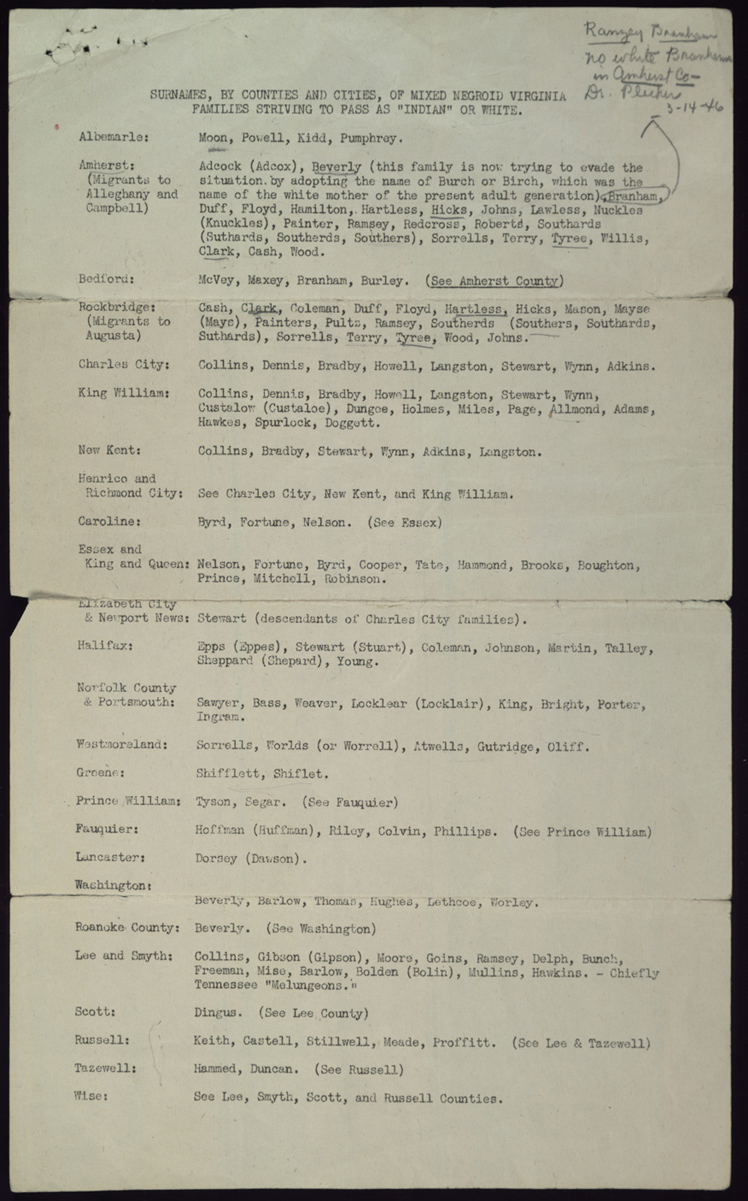 THE RACIAL INTEGRITY ACT OF 1924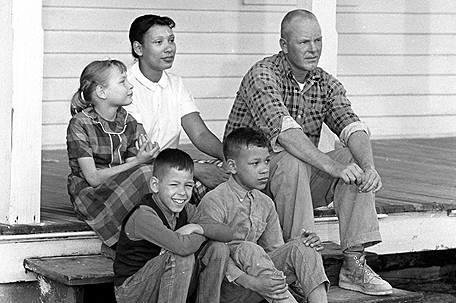 THE EUGENICS MOVEMENT
In the 1920s, Virginia's registrar of statistics, Dr. Walter Ashby Plecker, was allied with the newly founded Anglo-Saxon Clubs of America in persuading the Virginia General Assembly to pass the Racial Integrity Law of 1924.[4] The club was founded in Virginia by John Powell of Richmond in the fall of 1922; within a year the club for white males had more than 400 members and 31 posts in the state.[5]
In 1923, the Anglo-Saxon Club founded two posts in Charlottesville, one for the town and one for students at the University of Virginia. It sought (and was successful in gaining) passage of legislation to classify all persons as belonging either to the "white" or "Negro" races. A major goal was to end "amalgamation" by racial intermarriage. Members claimed also to support Anglo-Saxon ideas of fair play. Later that fall, a state convention of club members was to be held in Richmond.[6]
The Virginia assembly's 21st-century explanation for the laws summarizes their development:
THE NOW-DISCREDITED PSEUDO-SCIENCE OF EUGENICS WAS BASED ON THEORIES FIRST PROPOUNDED IN ENGLAND BY FRANCIS GALTON, THE COUSIN AND DISCIPLE OF FAMED BIOLOGIST CHARLES DARWIN. THE GOAL OF THE "SCIENCE" OF EUGENICS WAS TO IMPROVE THE HUMAN RACE BY ELIMINATING WHAT THE MOVEMENT'S SUPPORTERS CONSIDERED HEREDITARY DISORDERS OR FLAWS THROUGH SELECTIVE BREEDING AND SOCIAL ENGINEERING. THE EUGENICS MOVEMENT PROVED POPULAR IN THE UNITED STATES, WITH INDIANA ENACTING THE NATION'S FIRST EUGENICS-BASED STERILIZATION LAW IN 1907.[7]
In the following five decades, other states followed Indiana's example by implementing the eugenic laws. Wisconsin was the first State to enact legislation that required the medical certification of persons who applied for marriage licenses. The law that was enacted in 1913 generated attempts at similar legislation in other states.
The Racial Integrity Act cited eugenics arguments for prohibiting marriage between whites and non-whites.anti-miscegenation laws, banning interracial marriage between whites and non-whites, had existed long before the emergence of eugenics. First enacted during the Colonial era when slavery had become essentially a racial caste, such laws were in effect in Virginia and in much of the United States until the 1960s.
However,
The first law banning all marriage between whites and blacks was enacted in the colony of Virginia in 1691. This example was followed by Maryland (in 1692) and several of the other Thirteen Colonies. By 1913, 30 out of the then 48 states (including all Southern states) enforced such laws.