Tupac Shakur and Tupac Amaru
"I wanted him to have the name of revolutionary, indigenous people in the world. I wanted him to know he was part of a world culture and not just from a neighborhood…"
— Afeni Shakur
At virtually any presentation, I get the following question: was Tupac Shakur named after Tupac Amaru?  I get it even after I've talked about it in lecture. Students remain incredulous. While more frequent in the United States than in Peru, I've also fielded questions about the two Tupacs in Lima and Cusco.  I'm writing more about this (and also have some in the book) but here are the basics.
In 1972, Afeni Shakur (formerly Alice Faye Williams), a member of the Black Panther Party in the United States, was acquitted on conspiracy charges in New York, part of a group known as the Panther 21. Once freed, she changed her infant son's name from Lesane Parish Crooks to Tupac Amaru Shakur. He was less than a year old, born in East Harlem on June 16, 1971, while his mother was out on parole.  The last name honored her husband and Tupac's stepfather, Mutulu Shakur, himself a prominent black nationalist. "Tupac Amaru" referred to the Peruvian revolutionary.
Tupac Shakur wore the name proudly, emblazing it as 2-Pac on his chest, in one of his many tattoos. Handsome, gifted, and shot down in his prime, Tupac Shakur became an international symbol of resistance. Both Tupacs, José Gabriel and Shakur, died martyrs, with their popularity or fan-base growing post-mortem.     After her son's death, Afeni Shakur founded the Tupac Amaru Shakur Foundation, which includes a very active Foundation for the Arts.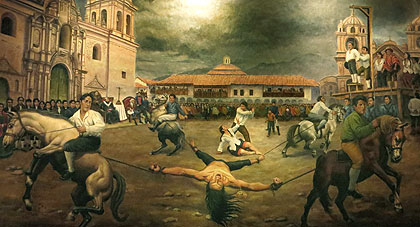 Between 1780 and 1782, when the rebellion of the British colonists in North America was reaching its climax, a still more savage drama was being played out in South America. The Andes were in revolt, and Spain, like Britain, was faced with the prospect of losing one of its most prized overseas possessions. Since the overthrow of the Inca empire in the 1530s and the discovery of the silver mountain of Potosí in the high Andes in 1545, the viceroyalty of Peru had generated a substantial part of the wealth that enabled Spain to create and maintain its "empire of the Indies" and its position as a leading European power. Now suddenly in 1780 Spain saw its control of Peru placed in jeopardy by a minor Indian nobleman, José Gabriel Condorcanqui, who laid claim to the royal blood of the Incas as a direct descendant of the last Inca ruler, Tupac Amaru, captured and executed by the Spaniards in 1572. http://turtlegang.nyc/tupac-amaru-the-life-times-and-execu…/