Sagamore Po Wauipi Neimpaug and Powwas Kuehi Eneh Auttch of the Pokanoket Tribe of the Pokanoket Nation set the record straight on their family bloodlines and heritage, and their ongoing efforts to assist all southern New England Tribes in achieving true sovereignty and repatriating their ancestral lands.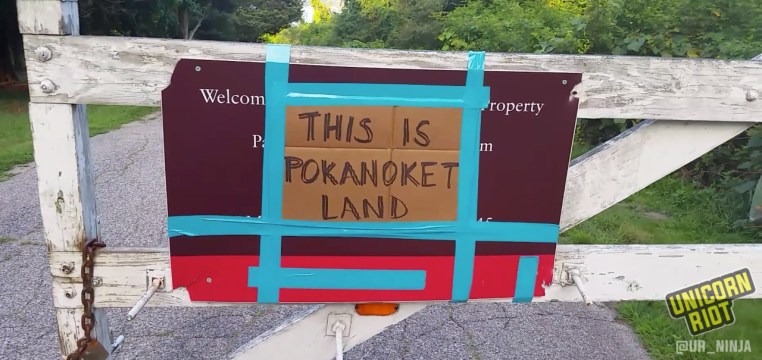 Pocasset Tribe of the Pokanoket  Nation   
 As Nutayunean ( We Still Live Here)
The Pocasset Wampanoag Tribe a member of the original Pokanoket Federation led by Massasoit otherwise known as Ousamequin (Yellowfeather)  The Pocasset Tribe encompassed present day Tiverton, RI any parts of Southeastern Massachusetts including Fall River, Freetown, Darthmouth, Fairhaven Westport and as far as Middleboro. The Pocasset Tribe was a contact tribe headed by Chief Corbitant father of Weetamoe. The Pocasset Tribe was one of the largest and most powerfull in the Pokanoket Federation shadowing Massasoit at Sowams village. The Pocasset Chief Corbitant was one of the original signers of the 1621 treaty at Plymouth.
The Pocasset Tribe has kept their identity through history and today still have a reservation in Fall River MA called the Watuppa ( Where we sit and root). Located at 275B Indiantown Rd Fall River, MA 02790.  The Pocasset Territory was reserved for time indefinite for the Royal line of the Massasoit's and there clans. Today this tribe is headed by a Traditional Council of Chief's. The Pocasset's have a traditional clan style Council of Chief's whom maintain the tribe's day to day operations. The Pocasset Tribe is true to the eastern culture and has a Pokanoket Nations drum shared by the Affiliated Tribes of New England Indians using traditional Algonquin language the Eastern Medicine Singers headed by Council Chief Daryl Black Eagle Jamieson. We are still true to a hunting, fishing and gathering tradition. The Pocasset Tribe still maintains it's original sovereignty and is a member of the Alliance of Colonial Era Tribes & The Affiliated Tribes of New England Indians promoting Unity with our fellow Tribes. Still standing on the 300 year old sacred ground of our ancestors at Wattupa Reservation. Aquene Neemats
Member of FANA

We claim all artifacts in conjuction with the Pokanoket Tribe as our ancestrial land.
The Pocasset Tribe is a member of the Affiliated Tribes of New England Indians. Affiliated Tribes of New England Indians
The Pocasset Tribe is a member of the Alliance of Colonial Era Tribes  Alliance Colonial Era Tribes
 COUNCIL CHIEF BLACK EAGLE MEETING WITH RI GOVENOR CHAFFEE